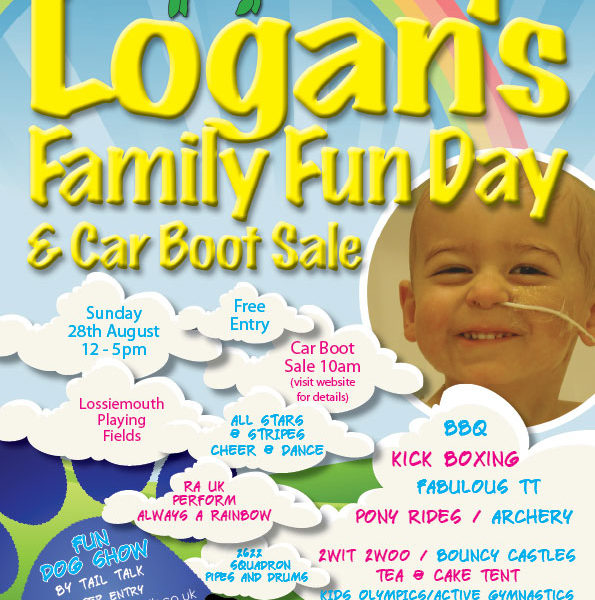 Logan's Fund host their 7th annual Fun Day on Sunday August 28th at Lossiemouth Playing Fields from mid-day until 5pm. Entry is FREE.
There is an accompanying car boot sale starting at 10am (see contact details below for booking a pitch – cost £5.00).
Please join us on the 28th for this hugely popular event that has something for everyone. 
Attractions this year include:
RA UK & friends of Logan's Fund officially launching and performing our collaboration single 'Always a Rainbow'.
The Pipes & Drums of 2622 Squadron; the first time we have had a full pipe band at our Fun Day.
Fun Dog Show hosted by Tail Talk. Dog Show is at 2pm and judged by local vets Millar and Swan. All dogs must be entered by 12:30pm on the day or in advance by emailing susan@tail-talk.co.uk. Each entry is £3.00. Best Puppy, Best Dog, best Bitch, Best Rescue Dog, Best Oldie and Best in Show. All dogs to be kept on leads. https://www.facebook.com/events/1045793712178407/
All Stars & Stripes Cheer & Dance. Glitz and Glamour in the entertainment ring and performers we have wanted at our Fun Day for several years now.
Sfear Kick Boxing demo. 
Active Gymnastics host Kids Olympics – open to all to enter free of charge.
The Fabulous TT performs a beautiful number at the event opening.
Pony Rides by EQUUS
Archery by Glenlivet Archers
2wit 2woo and their beautiful owls. 
Tea and Cake tent by Aroma
Logan's Fund BBQ at affordable prices for a family.
Castles in the Sky
Jumbo Inflatables. 
Relaxation treatments by Heilan Hands.
Comparing by Radio Buckie.
Amazing prizes to win in our BIG raffle including 2 night stay in luxury log cabin with hot tub courtesy of Cairnty Lodges, 2 night stay in luxury caravan at Silversands, family day pass to Landmark and lots lots more. Donations will be gratefully received. Raffles available now in advance or on the day. 
Charity and Craft Stalls are welcome – pre-book at pitch at cost of £10.00.
To contact us for bookings or enquiries please email info@logansfund.org, phone 07966 047286 or via personal message on either Logan's Family Fun Day  or Logan's Fund Facebook page.
Like us at https://www.facebook.com/logansfamilyfunday/?fref=ts